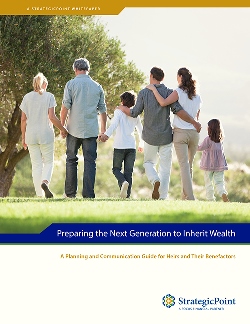 Download For Free:
Preparing the Next Generation to Inherit Wealth
According to recent survey data, 38% of affluent Americans have yet to establish even the most basic estate plan . The consequences? In the event of an accident or untimely death, failure to plan often results in family disputes, poor financial decisions, unnecessary costs, and overall: inefficient transfer of the wealth you worked so hard to build.
This guide answers key questions for both heirs and benefactors—including:
• How do I talk to my kids (or my parents) about inheritance?
• What should I be doing to solidify my estate plans?
• What are some smart ways to make use of an inheritance?
• What do I need to know about estate tax? And much more…
Help your loved ones address these financial and emotional questions. Download our guide today.